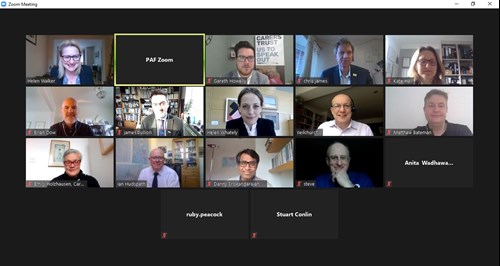 Eleven organisations joined the Minister for Care, Helen Whately, for a virtual roundtable on 24th March 2021 to highlight the need to recognise and support unpaid carers in the wake of the COVID-19 pandemic.
Marking the start of the countdown to Carers Week this year, which takes place from 7th – 13th June 2021, the discussion explored the support carers need in recovery from the pandemic, as well as their experiences during the last year to inform sustainable reform for adult social care.
Making sure that positive changes carers saw during the pandemic are maintained, such as better recognition within the NHS and by GPs, and local support and volunteering, was also discussed.
Organised by Carers UK, those participating in the discussion included representatives from Age UK, Carers Trust, Motor Neurone Disease Association, Oxfam GB, Rethink Mental Illness, Carers Week sponsors Centrica and Nutricia, as well as the Local Government Association, NHS England and the Association of Directors of Adult Social Services (ADASS).
The attendees heard from Steve Acklam, caring for his wife Veronica, 75, who has Alzheimer's and vascular dementia, and detailed the challenges of his caring situation in the last year.
Helen Walker, Chief Executive of Carers UK, said:
"The pandemic has brought a great deal of additional stress and exhaustion into the lives of unpaid carers, with two thirds unable to take any breaks from their caring roles whatsoever.
"Meeting with the Minister for Care was an important opportunity to outline ways we can ensure carers get the support they need as we move out of some of the toughest months of the pandemic."
Helen Whately, Minister for Care, said:
"Unpaid carers play such an important role day-in day-out to those who need them and never more so than during the pandemic and this meeting was another important chance to recognise and thank them for their contribution.
"Many unpaid carers have rightly been getting protection through priority vaccinations and we will continue to work closely with vital organisations including Carers UK to support carers going forward."