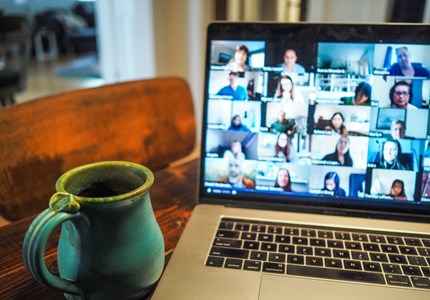 Tips for running activities
Whether you're hosting an activity online or in person, we've got some handy tips to get you started.
Ideas for virtual activities
Hold an online event for carers in your local area. There are loads of free to use software from Zoom, Facebook Live, Microsoft Teams or others. This is a great way for carers to connect and share their experiences. Remember that some people won't have used these software before so may need more help to join in.
Host an online advice or information drop-in session. There are loads of experts who can help connect carers to support or even offer wellbeing tips.
Hold a live Question and Answer session. Carers could submit their questions in real time on social media or in advance by email. You, or an expert you invite, could answer their questions.
Host an online quiz, karaoke session or book club. This is a great way for carers to connect with other carers and to take a break.
Create a playlist of relaxing songs using YouTube or Spotify, which you can share with carers to help them unwind and take a break.
Hold a competition where carers submit short stories, poems or photos about their experiences or caring. You could host an online ceremony to celebrate the great entries.
Include information and advice in your email newsletter. You can help carers access much-needed information about caring through your newsletters, or attach the 'Information for carers' leaflet.
Host an online physical activity session demonstrating simple chair exercises or other activities carers can do from home as a way to look after their health and wellbeing. For the more adventurous, you could consider running an online aerobics class or Zumba class!


Ideas for offline or face-to-face activities
We know not all carers have access to the internet, or a reliable connection. It is more important than ever that we take the time to check in with those carers who might be feeling isolated.
Arrange a massage, share some relaxation techniques, or offer tai chi lessons.
Get experts in to share knowledge and techniques to help carers manage practical issues such as diet, nutrition and wellbeing.
Organise a day trip for carers or provide a free entertainment event.
Many groups plan a coffee morning or an afternoon tea. It's a great way for carers to meet each other.
Organise a quiz night or a barbecue to give carers an opportunity to socialise and take a break from caring.
Not everyone is able to get online but they still want to connect with other people. Set up a telephone chat with local carers or volunteers, each one can call a local carer and have a conversation in Carers Week.
Send information to local carers. Accessing information and support about caring is so important, so why not send information on caring to local carers, this could be in the post.
Post activity ideas to carers who prefer to receive information by post – this could include ideas for keeping fit while at home, healthy recipe ideas, or other ideas to help carers look after their health and wellbeing.
Send a letter and create new pen pals. Everyone likes receiving post, so why not write a personal note to local carers or encourage volunteers to write cards to carers on behalf of your organisation? To respect data protection you could post these out yourself.
Ask local businesses or health services who are open to display posters in their windows or on noticeboards about how much they value unpaid carers.


Health and safety
Carers Week is a campaign made possible by Carers UK and other national supporting charities.
Supporters will hold activities in "support of" and NOT on "behalf of" Carers Week or any of the supporting charities.
Event organisers are responsible for the health and safety of participants.
Event organisers acknowledge that any views or opinions expressed or promoted during your activity or event are solely the ones of the individuals involved and do not necessarily reflect those of Carers UK or other supporting charities.
You agree that you are responsible for the actions of people involved in the organisation and delivery of an activity.
Carers UK accepts no liability or responsibility for any actions or results or adverse situations created as a direct result of your activity.
Carers UK will not be responsible for any usage of any individual's image captured during your activity.
Carers UK public liability insurance does not provide cover for events which others manage in support of Carers Week. Please arrange your own public liability insurance if needed.
You are responsible for conducting your own risk assessment for any risk associated with your activity. You can find guidance on risk assessment on the Health and Safety Executive (HSE) website here.