For health services
Carers have played a vital role in helping people manage their health and care needs during the COVID-19 pandemic. Carers are a key partner, alongside the health service, in managing the needs of the people they look after. That's not all: carers also form a hugely significant group of patients who need particular support to look after their own health.
That's why it is important that health services recognise the important role that carers play, while helping them to be a part of decision making, get advice about caring, and ensure that carers look after their own health at the same time.
From simple one-off actions to ongoing commitments, there are all kinds of ways for health services to recognise a carer's role. The more visible carers are to the wider health and care system, the more their contribution and need for support will be recognised.
Below are ideas for GP practices, hospitals and pharmacies
GP practices
The pandemic has created the biggest ever carer identification programme to date and the work that GP practices have done to identify carers and flag them on their records has enabled people to get essential help quicker.
The help doesn't have to stop there. GPs are in touch with carers every day, either as patients, or on behalf of those they care for. There are lots of things that GP surgeries can do to create an environment where carers are identified and supported to look after their own health and wellbeing while caring for their loved one:
Continue to encourage carers to identify themselves by including information about carers on your GP practice website, as well as in leaflets and newsletters.
Include notes on patient records, both whether the patient has a carer (and if so, who that carer is), but also if the patient is a carer.
Develop a practice policy for carers informed by carers and any patient participation group. Appoint a carer lead(s) to champion it.
Send out information during Carers Week, helping to connect families with available support services.
Get in touch with your local carers' organisation to check what they offer, so that you can let patients know quickly and easily what support is available in your area. Carers UK have a directory of carers services
Ask patients who report fatigue, stress, anxiety, or depression if they are an unpaid carer (or looking after someone) and connect them to support if they are.
Hospitals
Many patients who come into hospital will be cared for by a relative, or they will have caring responsibilities themselves. There are many simple actions that hospitals can take to support carers:
Introduce Carer Passports for carers of patients. Visit the Carers Passports website
Introduce carer friendly policies, such as allowing some carers to spend time with their family member or friend outside of visiting hours, or giving them free car parking.
Offer flexible appointments for tests to those people with caring responsibilities.
Ensure that family members are given the right information and advice on how to care safely and well.
Ensure staff understand the implications of decisions on carers by ensuring staff are aware of families' needs.
Involve carers in decisions about the care of the person(s) they look after, including discharge planning if the patient agrees. Carers have expertise and should be respected and listened to.
Ensure that there is clear and early information about carers' rights at hospital discharge.
Connect with key local organisations to help signpost families to support.
Pharmacies
Pharmacies and community health services often have more direct contact with carers than other services. This means they can connect carers to services to make their caring role easier, or help people get support with their own health and wellbeing. There are many simple actions that pharmacies can take to support carers:
Help anyone who might be caring to identify themselves as a carer and make sure they know about services you offer for carers, such as free flu jabs and the NHS Health Check.
Signpost carers to local support services, such as a local carers' organisation.
Offer a medication review, with permission from the patient, and help carers with advice on medication (for example, about side effects or administering medication) or health and wellbeing.
Ensure that the right support and training is available to help carers to care well.
Send out information during Carers Week, helping to connect families with available support services.
Downloads
Get involved guide

PDF(1.5MB)
Download our guide to how to get involved
Download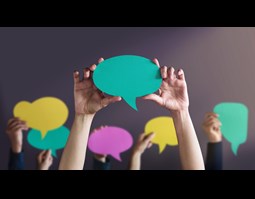 Help Make Caring Visible and Valued by adding your voice - and encourage your collegaues and clients to do so too.
Better breaks for unpaid carers
Carers have been under extraordinary pressure during the COVID-19 pandemic, with many caring around the clock without access to support.
Thank you to everyone who took part in our campaign, calling on the government to increase funding for carers' breaks.