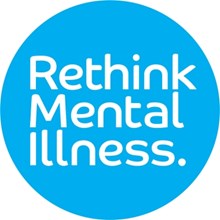 Rethink Mental Illness
Rethink Mental Illness is the charity for people severely affected by mental illness. No matter who a person is or how bad their situation has got, we are here to help them get the information and support they need to live a better life. 
We work tirelessly to ensure people living with mental illness and their carers are listened to, treated fairly and have easy access to services that meet their mental health needs and wider physical health, financial, housing, work and volunteering needs. 
We do this by providing our own services, campaigning on a local and national level, and working with a wide range of other organisations to create communities that care.
Philippa Lowe, carer and former Chair of Rethink Mental Illness:
"As a charity that was created by carers like myself, to improve the lives of people severely affected by mental illness, we're proud to be part of Carer's Week. It's important to us that we're there to help anyone that's feeling the strain, and carers, family, and friends all give so much of their time in the support of others that it often comes at the cost of their own mental and physical wellbeing. This week gives us all the chance to recognise the great work that carers do."
Are you caring for someone living with a mental illness? Find out how Rethink Mental Illness can support you today: