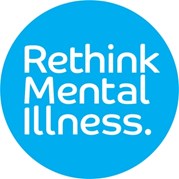 Rethink Mental Illness
We're Rethink Mental Illness and no matter how bad things are, we can help people severely affected by mental illness to improve their lives. We're on a mission to bring about meaningful change, through our services, groups and groundbreaking campaigns.
As a leading charity provider of mental health services in England, people living with mental illness and those who care for them, are at the heart of everything we do. They shape our expert advice, information, and around 200 services – everything from housing to community-based services. And they drive our campaigning to change the law and tackle discrimination.
Together, we run over 130 local groups which provide vital peer support in the community.The charity was established by carers 50 years ago and carers still play a key role in our work today. We have dedicated carers services and run over 50 carers and sibling support groups which offer a listening ear, friendship and social support. When asked about our groups, 91% of carers said that they had 'helped me to reduce feelings of isolation or loneliness', and 87% agreed they had 'helped to improve / maintain my mental health and wellbeing'. We also offer practical advice over the phone via our advice line, as well as on our website, through over 120 award-winning factsheets available for download.
Philippa Lowe, carer and former Chair of Rethink Mental Illness:
"As a charity that was created by carers like myself, to improve the lives of people severely affected by mental illness, we're proud to be part of Carer's Week. It's important to us that we're there to help anyone that's feeling the strain, and carers, family, and friends all give so much of their time in the support of others that it often comes at the cost of their own mental and physical wellbeing. This week gives us all the chance to recognise the great work that carers do."
Are you caring for someone living with a mental illness? Find out how Rethink Mental Illness can support you today: